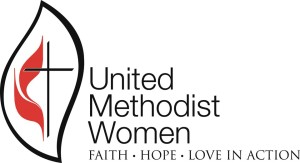 The official emblem for United Methodist Women as well as for the United Methodist Church combines the cross and the flame. The cross and flame are ancient symbols of Christ and Pentecost. The shape of the emblem is fluid and free‐flowing, suggesting change and mobility.
"…I now remind you to stir into flame the gift of God which is within you." (II Timothy 1:6)
Our heritage is one of sacrifice, witness and service. The emblem serves as a continuing reminder of both opportunity and obligation.
Purpose
The organized unit of the United Methodist Women shall be a community of women whose PURPOSE is:
To know God and to experience freedom as whole persons through Jesus Christ;
To develop a creative, supportive fellowship;

And to expand concepts of missions through participation in the global ministries of the Church.
United Methodist Women strive to give help and hope to those less fortunate by our prayers, pledges, gifts and time. Our unit offers five circles for membership. Three groups have morning or afternoon meetings and two meet in the evening. Join us for fellowship as we witness and serve Jesus Christ.
Circles
Catherine Keith Circle  Meets second Monday of the month at 10:30 a.m.
Dana Higgins Circle Meets second Tuesday of the month at 6:30 p.m.
Jewell Circle  Meets second Monday of the month at noon
Susanna Wesley Circle  Meets second Tuesday of the month at 11 a.m.
The Sisterhood Circle Meets fourth Monday of the month at 6:30 p.m.